Description
Intuos Art
Your first T-shirt design.
You're only an Intuos away.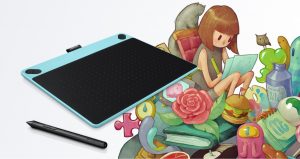 et your creative genius play with the new Intuos Art. It includes Wacom's leading pen & touch tablet technology, free downloadable creative software and online training. So whether your dream is honing your skills, racking up some 'likes', or designing a must-have T-shirt, Intuos Art has everything you need to create amazing digital paintings.
*Sizes and colors may vary by region.
Take your artwork to another level
Intuos Art comes with all the tools, services and tutorials you need to take your art up a notch. Getting started couldn't be simpler – the pen feels and behaves just like the traditional brushes, markers and pencils you're used to. You're closer than you think.
Your imagination's the limit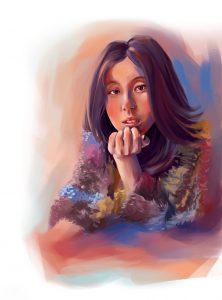 Play. Experiment. Create. An Intuos pen tablet gives you the power to take your work beyond the canvas. Creative software allows your pressure-sensitive Intuos pen to switch between pencils, chalks, oils and watercolors, creating your own unique effects and style.

Software to take your skills further

Dive into Corel Painter Essentials 5 software* with your Intuos Art and see how it provides exactly what you need to create your next masterpiece.
*Registration required to redeem software and other offers.
*64bit system required for Windows
Share your work with the world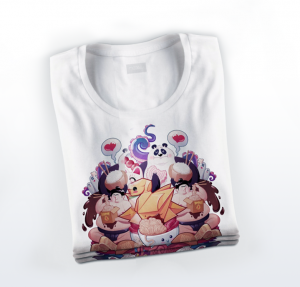 What's your ambition? Whether you just want to share your art online, or design your own must-have t-shirt, Intuos can help get your work noticed.
Work faster with Wacom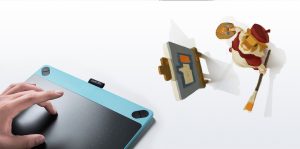 All Intuos Art models include multi-touch, which allows you to use common gestures to zoom, rotate and pan your artwork and click in your applications. ExpressKeys put shortcuts at the press of a button.
A natural, just like you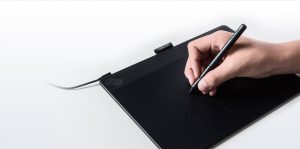 With an Intuos pressure-sensitive pen and a tablet designed for both right-and-left-handed use, creating is natural and it's easy to switch between tools. Your pen can be a pencil as easily as paint, chalk, or markers.
Easy to set up, easy to use
Go online, plug the USB into your Mac or PC, install driver from the web download, register your Intuos, and download the creative software.
Go cordless with a Wacom Wireless Accessory Kit (sold separately) and enjoy the freedom of working unattached from your computer.
Cool Colors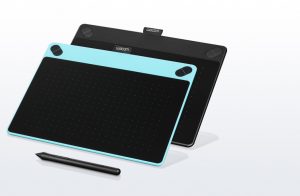 Available in sophisticated blue and black,
you'll stand out no matter which you choose.
Specifications
Type
Pressure-sensitive, cordless, battery-free
Active Area
Medium: 216 x 135 mm (8.5 x 5.3 in)
ExpressKeys™
Yes, 4 with application specific settings
Multi-Touch
Yes
Pressure Levels
1024
Wireless Support
Yes (Sold separately)
Weight:
480 ±50g
Resolution
2540 lpi
Reading Speed (pen)
133pps
Pen Intuos
Pen
Cables Included
Yes
System Requirements
USB port
Internet connection
CD/DVD-ROM drive
Windows® 7, 8 or 10
MacOS 10.8.5 or later
Corel Painter Essentials 5 – 64bit system required for Windows
Product Type
Pen tablet
Technology Patented electromagnetic resonance method
What's Included
Intuos tablet
Pen
USB cable
Replacement pen nibs
Software download instructions and code*
Quick start guide
Installation CD
*registration required
Additional Accessories
Wireless Accessory Kit
Wireless Accessory Kit Battery
Standard Black Pen Nibs (5 pack)
Pen Set
Size Approximations
*Specification numbers like active area, tablet size or weight are approximate